Search for Interesting Algebraic Pattern
GENERAL CONSIDERATIONS / EXPECTED VALUES
Search was executed for 11-digit-long sequences that follow a number pattern.
Search mask looks like   12121212121.
This mask indicates the value difference between neighbouring digits.
Example: Mask for an uprunning sequence looks like 12345678901.
We examined these sequences while moving the starting position from 1 up to 1011.

The expected average number of hits for these algebraic sequences is 10.
RESULTS
Number of different search masks: 18
Numbers of expected hits: 18 x 10 = 180
Number of hits found: 175

Overview: Pattern Hits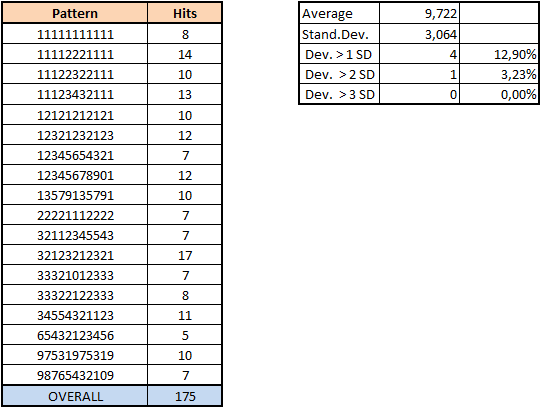 Details: Pattern Hits